Featured Program
High School Veterinary Service - Chiang Mai, Thailand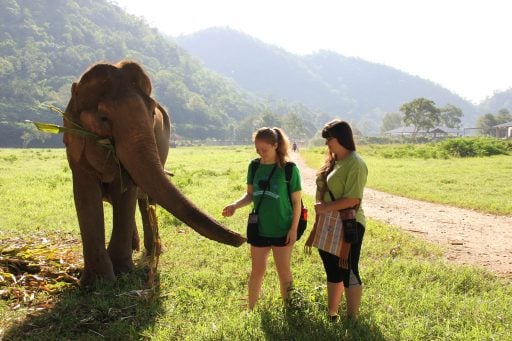 I traveled with Loop Abroad in July, 2015. I participated in the High School Vet program, and it was ten times more incredible and interesting than I could have ever imagined. This was my first time travelling abroad, and it was also my first time traveling without my family. At first, at the airport and when we first boarded the plane, I was terrified, but that changed as soon as we took off from JFK. I was surprised by how quickly the flight from JFK to Hong Kong went by, and the one from Hong Kong to Chiang Mai went even faster! Sonja, a Loop employee, flew with us, and she helped us get through security and customs without any problems.
The most incredible aspect of the Elephant Nature Park was, of course, the animals! At the time of my trip, there were 63 elephants, 420 dogs and more than 200 cats. We had the opportunity to shadow both elephant and dog vets to perform a variety of medical procedures from cleaning land mine wounds on elephants to giving Sub-Q fluids to two rescue dogs. Everyone had the chance to participate in a diet study, too, where two people from the same group follow one elephant all day and record what and how much they eat. I got to follow Mae Boon Maa, and it was probably my favorite day at the Elephant Nature Park. By watching her and her two friends all day, we were able to get a sense of their personalities and means of expressing themselves. On one of our last days there, Lek, founder of the ENP, spoke to us and showed us photos from her years of helping elephants. It was thought provoking, sad and life-changing to say the least.
If you are interested in becoming a vet, but unsure if you would actually be able to handle it or not, this trip is a perfect way to figure that out and to get past any fears of blood or needles, as I did. As at the ENP, every staff member at Spicy and ARK was phenomenal. Emily, Jane, Addam, Jack and everyone else were amazing, kind and just great to be around. During my whole time in Thailand, I didn't get homesick once because everyone there made it feel like home.
-KL